Outline
Company Profile
Name
JGC Trading & Services Co., Ltd.
Head Office
Address
2-3-1, Minato Mirai,
Nishi-ku, Yokohama 220-6001, JAPAN
TEL: +81-45-682-8692 FAX: +81-45-682-8693
Established
February 17, 1968
Capital
40 million JPY
Annual Sales
3.9 billion JPY
(Fiscal Year 2020)
Directors

President
Kenichi Hanahara
Director (external)
Koshi Shima
Director (external)
Susumu Egi
Auditor (external)
Masatoshi Kuriyama
Senior Executive Officer
Takashi Shimizu
Executive Officer
Noriaki Tsuda

Employees
30
Main Banks
Sumitomo Mitsui Banking Corporation
Mizuho Bank, Ltd.
MUFJ Bank, Ltd.
Main
Businesses
Kinds of Product Sales
(1) Sales of equipment and materials for LNG, petroleum refining,
chemical and non-ferrous metal and non-ferrous plants


Towers and vessels
Trays and tower internals
Heat exchangers
Rotating machinery
Piping / Fitting materials
Instrumentation equipment
Other general equipment, machinery and materials

(2) Sales of equipment and materials for environmental conservation plants


Air pollution prevention equipment and machinery
Water treatment equipment and machinery
Soundproof equipment and machinery

(3) Sales of equipment and materials for pharmaceutical plants,
hospitals and R&D facilities


Bioreactors
Laboratory equipment
Washing machines
Medical equipment

(4) Sales of catalysts, chemical products and ceramics
(5) Worker dispatching undertakings
Permission/
Authorization
Permission for construction and machinery installation business
(Governor of Kanagawa permission)
Authorization for general sales of poisonous and deleterious substances
(Yokohama Health Center authorization)
Worker dispatching undertakings
License for retaining of specially controlled medical devices (Yokohama Health Center authorization)
License for Secondhand dealer (Kanagawa Prefectual Public Safety Commission)
License for Pharmaceutical Representative
Company Identification Number
9020001042543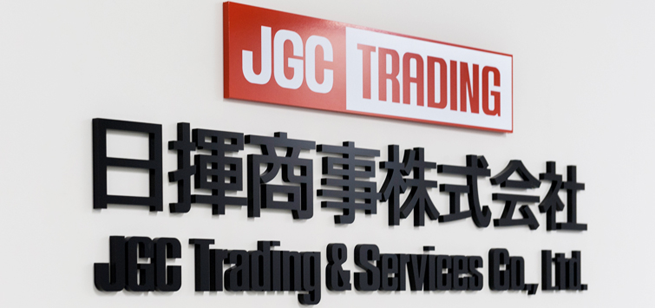 History
1968
February
Established with a capital of 10 million JPY in Otemachi, Chiyoda-ku, Tokyo, Japan
April
Concluded an agreement covering the sale of air cooled heat exchangers between Japan Gasoline Company (now JGC), Sasakura Kikai Seisakujo (now Sasakura Engineering), and Nikki Shoji
(now JGC Trading & Services)
1969
November
Succeeded the catalyst's sale of JGC Corporation
1970
February
Succeeded the sale of shell sulfolane solvent from JGC Corporation
August
Began the sale of FLEXITRAY and internals
1972
October
Increased a capital to 20 million JPY
1978
April
Opened Osaka Sales Office (Closed in 2013 March)
Began the sale of Brown Fintube, Pacific Hiro pumps and air cooled heat exchangers
1979
April
Concluded a Sales Representation agreement with Kosaka Laboratory
October
Increased a capital to 40 million JPY
1982
June
Concluded a Sales Representation agreement with Shin Nippon Machinery
1987
August
Acquired a license for general sales of poisonous and deleterious substances
1990
May
Acquired a license for the construction and machinery installation business
1996
February
Concluded a Distribution/Sales Representation agreement with Koch International
(now Koch-Glitsch)
2000
July
Concluded a Distribution/Sales Representation agreement with Brown Fintube Company
(now Koch Heat Transfer)
October
Concluded a Sales Representation agreement with Mokveld Valves
2003
December
Relocated to Minatomirai, Nishi-ku, Yokohama
July
Concluded a Sales Representation agreement with Instromet International
(now Honeywell/Elster-Instromet)
2007
August
Concluded a Sales Representation agreement with Alfa Laval Packinox
2009
October
Concluded a procurement services agreement with JGC Gulf International(Saudi Arabia)
2011
September
Changed the trade name in English from Nikki Shoji to JGC Trading & Services
October
Notified of Specified worker dispatching undertakings
November
Started dispatch of employees to Saudi Arabia
2015
November
Renewed a Sales Representation agreement with Koch Asia-Pacific
2016
February
Renewed a Sales Representation agreement with Koch-Glitsch Italia
May
Concluded a Sales Representation agreement with Wilhelm Maass
June
Concluded an Agency Agreement with International Development Company (IDC)
October
Acquired a license for retailing of specially controlled medical devices
December
Concluded a Sales Representation agreement with MySep
Concluded a Sales Representation agreement with KRANJI Solutions
2017
May
Concluded a Sales Representation agreement with OS Valve
2018
November
Concluded a Sales Representation agreement with BORSIG Process Heat Exchanger
2019
December
Acquired a license for Secondhand dealer
2021
July
Acquired a license for Pharmaceutical Representative
Main Items Handled
Trays and Tower Internals
Trays

FLEXITRAY
Koch-Glitsch (Italy, India, USA, Japan)
High-capacity trays
Koch-Glitsch (Italy, India, USA, Japan)
WINTRAY®
JGC (Japan)
Sieve trays, bubble cap trays and other trays
Koch-Glitsch (Italy, India, USA, Japan)

Random packing

FLEXIRING
Koch-Glitsch (Italy, India, USA, Japan)
IMTP
Koch-Glitsch (Italy, India, USA, Japan)

Structured packing

FLEXIPAC
Koch-Glitsch (Italy, India, USA, Japan)

Other internals

Internals
Koch-Glitsch (Italy, India, USA, Japan)
Separators
Koch-Glitsch (Italy, India, USA, Japan)
Ceramic ball
RVT (China), Tipton

(Japan)
Pumps and Turbines
Process pumps (centrifugal)
Shin Nippon Machinery

(Japan)

Steam turbines
Shin Nippon Machinery

(Japan)

Screw pumps (1, 2 and 3 shafts)
Kosaka Laboratory

(Japan)

Gear pumps
Toko Sangyo

(Japan)
Towers and Tanks
Drums and vessels
Various
Heat Exchangers
Brown fintube heat exchangers
Tokki

(Japan)

Air cooled heat exchangers
Sasakura Engineering

(Japan)

Plate heat exchangers
Alfa Laval Packinox (France)
Double pipe / Multitube / Twisted tube heat exchangers
Koch Heat Transfer (USA)
Waste Heat Recovery System / Quench Coolers
BORSIG Process Heat Exchanger(Germany)
Piping Materials
Pipe fitting
Sungkwang Bend (Korea)
Non-slum check valves, choke valves,
surge relief valves
Mokveld Valves (Netherlands)

Butterfly valves (for low temperatures)
Sasakura Engineering

(Japan)

Bellows valves
Ohno Bellows

(Japan)

Forged Flange
Wilhelm Maass (Germany)
Plug, Check, Gate, Glove valves
OS Valve (Korea)
DBB valves, Sampling system
BMT (Korea)
Instruments
Gas flow meters(ultrasonic type, turbine type,
rotary type, metering skids)
Honeywell/Elster-Instromet (Germany, Malaysia)
Calorie Meter, Gas Chromatograph 
HIPPS (High Integrity Pressure Protection Systems)
Mokveld Valves (Netherlands)
Control valves
Mokveld Valves (Netherlands)
Other Equipment and Materials
Silencers
Sasakura Engineering

(Japan)

Reactor internals
Aqseptence Group Japan(Japan)
Wedge wire screens
Aqseptence Group Japan(Japan)
Evaporating concentrators
Sasakura Engineering

(Japan)

Radiant Panel Air Conditioning System
Sasakura Engineering

(Japan)

Electrolytic scale remover 'Electro Life®'
Innovative Designs & Technology(Japan)
Catalysts and Chemical Products
Petrochemical products catalysts
Nikki Universal (Japan)
JGC Catalyst & Chemicals

(Japan)

Environmental catalysts
JGC Catalysts and Chemicals (Japan) and others
General chemical products
AquaChemie (UAE) and others
Speciality chemical products
AquaChemie (UAE) and others
Lubricants & Grease
Various
Heating medium
Various
Special Materials and Ceramics
Activated carbon
Cabot-Norit (USA)、Kuraray Chemical

(Japan)

Bactericidal air filter
Nikki Universal

(Japan)

Engineering ceramics
Japan Fine Ceramics

(Japan)

Metal Matrix composites
Japan Fine Ceramics

(Japan)
Equipment and Materials for Pharmaceutical Plants, Hospital and R&D Facilities
SPG membrane sparger
JGC

(Japan)

Bioreactors and Experimental device
BIS (Bilfinger Industrietechnik Salzburg GmbH) (Austria) and others
Washing machines
Belimed Inc. (Germany)
Services
Equipment import and export services
Comprehensive procurement services
Dispatch of professional technicians



Separation design software
MySep (Singapore)
CFD study
KRANJI Solutions (Singapore)
Sales Representation Agreements
Trays and Tower Internals

・Distribution / Sales Representation agreement with Koch-Glitsch (Italy, Japan) for trays, tower internals and separators

Heat Exchangers

・Sales Representation agreement with Sasakura Engineering (Japan) for air cooled heat exchangers
・Sales Representation agreement with Alfa Laval Packinox (France) for Packinox heat exchangers
・Sales Representation agreement with Koch Heat Transfer (USA) for Double pipe / Multitube / Twisted tube heat exchangers
・Sales Representation agreement with BORSIG Process Heat Exchanger (Germany) for Waste Heat Recovery System

Instruments

・Sales Representation agreement with Mokveld Valves (Netherlands) for valves
・Distribution agreement with Honeywell/Elster-Instromet (Germany) for gas flow meters and others

Pumps and Turbines

・Sales Representation agreement with Shin Nippon Machinery (Japan) for pumps and steam turbines
・Sales Representation agreement with Kosaka Laboratory (Japan) for screw pumps

Piping Materials

・Sales Representation agreement with Wilhelm Maass (Germany) for flanges
・Sales Representation agreement with OS Valve (Korea) for valves

Other Equipment and Materials

・Sales Representation agreement with Thuwainy Trading (Kuwait) for Catalysts, Chemical Products and Spare Parts
・Agency agreement with International Development Company (IDC) (UAE) for the Emirate of Abu Dhabi
・Sales Representation agreement with MySep (Singapore) for separation design software
・Sales Representation agreement with KRANJI Solutions (Singapore) for CFD study services

Membership
・TRACE International
・The Yokohama Chamber of Commerce and Industry
Main Customers (Clients)
Japanese Chemical Products Companies

AGC Inc.
Asahi Kasei Corp.
Denka Company Limited
DIC Corporation
JNC Corporation
JSR Corporation
Kuraray Co., Ltd.
Maruzen Petrochemical Co., Ltd.
Mitsubishi Chemical Corporation
Mitsubishi Gas Chemical Company, Inc.
Mitsui Chemicals, Inc.
Momentive Performance Materials Inc
Nippon Shokubai Co., Ltd.
Nippon Steel Chemical & Material Co. Ltd.
Shin-Etsu Chemical Co., Ltd.
Showa Denko K.K.
Sumitomo Chemical Company, Limited
Takeda Pharmaceutical Company Limited
Teijin Limited
Tokuyama Corporation
Tonen Chemical Corporation
Toray Industries, Inc.
Tosoh Corporation
Ube Industries, Ltd.
Zeon Corporation

Japanese Engineering and Construction Companies

AGC Engineering Co., Ltd.
Chiyoda Corporation
Chiyoda Kosho., Co Ltd.
Cosmo Engineering Co., Ltd
Daido Plant Industries, Co., Ltd.
Ebara Environmental Plant Co., Ltd.
Hitachi Power Solutions Co., Ltd.
Hitachi Zosen Corporation
Hitachi-Zosen Plant Techno-Service Corporation
Hitachi, Ltd.
Idemitsu Engineering Co., Ltd.
IHI Corporation
Ishii Iron Works Co., Ltd.
Japan Chemical Engineering & Machinery Co., Ltd.
JFE Engineering Corporation
JGC Corporation
JGC Holdings Corporation
JGC Japan Corporation
JNC Engineering Co., Ltd.
JSR Engineering Co., Ltd.
Kawasaki Heavy Industries, Ltd.
Kobe Steel, Ltd.
Kobelco Eco-Solutions Co., Ltd.
Mitsubishi Chemical Engineering Corporation
Mitsubishi Heavy Industries, Ltd.
Mitsubishi Heavy Industries Engineering, Ltd.
Mitsubishi Power, Ltd.
Mitsubishi Kakoki Kaisha, Ltd.
Mitsui E&S Holdings Co., Ltd.
RAIZNEXT Corporation
Shin-Etsu Engineering Co., Ltd.
Shinko Engineering & Maintenance Co., Ltd
Sumitomo Chemical Engineering Co., Ltd.
Sumitomo Heavy Industries, Ltd.
Takuma Co., Ltd.
TEC Project Services Corporation
The Japan Steel Works, Ltd.
Toray Engineering Co., Ltd.
Toyo Engineering Corporation
Toyo Kanetsu K.K.
Tsukishima Kankyo Engineering Ltd.

Japanese Gas Companies

Osaka Gas Co., Ltd.
Tokyo Gas Co.,Ltd.

Japanese Petroleum Companies

Cosmo Oil Co., Ltd.
ENEOS Corporation
ENEOS Holdings, Inc
ENEOS Wakayama Petroleum Refining Co., Ltd.
Fuji Oil Company, Ltd.
Idemitsu Kosan Co., Ltd.
INPEX Corporation
Japan Petroleum Exploration Co., Ltd.
Kashima Oil Co., Ltd
Seibu Oil Co,. Ltd
Showa Yokkaichi Sekiyu Co., Ltd.
Taiyo Oil Co., Ltd.
TOA Oil Co., Ltd.

Others

Cameron Japan Ltd.
Tokyo Electric Power Company Holdings, Inc.

Overseas Clients
Bahrain

Bahrain National Gas Company
Bahrain Petroleum Company

Kuwait

Kuwait National Petroleum Company

Qatar

Qatargas Operating Company
Qatar Petrochemical Company
Qatar Petroleum
Teyseer Trading & Contracting Company

Saudi Arabia

JGC Gulf International Co. Ltd.
Rabigh Arabian Water and Electricity Company
Rabigh Refining and Petrochemical Company
Saudi Chevron Phillips Company
Sadara Chemical Company
MARAFIQ

UAE Brunei

Brunei Methanol Company Sdn.Bhd.

Cambodia

Sunrise Healthcare Service Co. Ltd.

Indonesia

PT JGC Indonesia
PT Pertamina

Malaysia Pakistan Philippines

Coral Bay Nickel Corporation
JGC Philippines, Inc.
Petron Corporation

Singapore

JGC Singapore Pte. Ltd.
Singapore Refining Company Pte. Ltd.

Thailand

Thai Polyacetal Co., Ltd.
Electricity Generating Authority of Thailand

China

Teijin Polycarbonate China Ltd.

United Kingdom

UOP Products UK Limited (A Honeywell Company)

Germany

Fraunhofer IKTS
Sunfire GmbH

Nicaragua

Polaris Energy Nicaragua S.A.